It didn't take long for Bru McCoy to set his sights on Tennessee after he added his name to the NCAA transfer portal in January. He heard good things about the Vols from a couple of his former Southern Cal teammates who have transferred to play at Tennessee, wide receiver Velus Jones Jr. and kicker Chase McGrathand the Vols were searching for a receiver capable of making an immediate impact on their offense.
By the end of his first visit to Knoxville, McCoy was sold on following the same path as Jones and McGrath. McCoy, a former five-star prospect, announced Tuesday night that he has committed to the Vols, publicly revealing a decision he effectively made weeks ago before wrapping up his official visit to Tennessee in late March.
The 6-foot-3, 220-pound McCoy is set to officially join the Vols this month to attend May mini-session classes, giving them a veteran wide receiver capable of helping them replace former starters Jones and JaVonta Payton.
McCoy, who has three remaining seasons of eligibility, said he chose Tennessee because of its "development" at wide receiver and his "opportunity" to make an immediate impact in coach Josh Heupel's fast-paced, high-scoring offense.
"It's an unbelievable staff," McCoy told GoVols247 before publicly revealing his decision. "They care about their players. Someone like me, I think I will thrive here. This community, the campus — everything — the way people treat each other here, it fits the type of person I am.
"And then, on the field, obviously the scheme offensively fits the type of player I am, so it's a wholesome — you know, everything's clicking."
His official visit to Tennessee in late March allowed him to attend at least a portion of two of the Vols' spring practices and spend plenty of time with Heupel's staff, including first-year wide receivers coach Kelsey Pope. McCoy came away convinced that he would thrive in Heupel's system and enjoy playing for Tennessee's coaches.
"They're genuinely invested in their players and their players' success on and off the field," said McCoy, a four-star transfer prospect who's ranked by 247Sports as the No. 13 transfer wide receiver for the 2022 cycle.
"As much as they want you to be a great player and productive, they want you to be a great man. They want you to treat the people around you well, but they also want you to flourish on the field, and they're going to push you — in an uplifting way, but they're going to push you and get as much as they can out of you. And they're going to provide the same effort, so it's matched.
"You feel comfortable working hard when a guy's working hard for you."
McCoy said he informed the Vols of his decision in late March before the end of his official visit to Knoxville.
"It was right before practice, so it was like, 'Aw, dang, buddy,' but like, 'Let's go!'" he said, recalling the reaction of Tennessee's coaches. "They're fired up. I'm fired up. It's time to go to work, though."
The positive feedback he received about the Vols from former USC teammates McGrath and Jones, who was back in Knoxville for Tennessee's pro day during McCoy's visit, helped the Vols emerge as one of the favorites to land him. But he said he needed to see Tennessee for himself to verify what he had heard about the program, and he didn't come away disappointed.
"From talking to Chase and Velus, it just piqued my interest," McCoy said. "But you've got to come experience something. You've got to make your own opinion. So I came in with just an open mind completely. Hadn't planned any other visits, and it's just like, 'Hey, let's come check it out and see if everything they've said is true.'
"And everything the coaches have been saying over the phone and everything, it was more than true."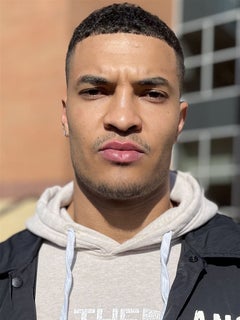 During the pandemic-shortened 2020 season, McCoy caught 21 passes for 236 yards and two touchdowns in six games while playing in a USC receiving corps that included a 2021 fourth-round NFL draft pick in Amon-Ra St. Browna 2022 first-round NFL draft pick in Drake London and another receiver in Tyler Vaughns who spent the 2021 season on an NFL practice squad.
McCoy was a candidate for a breakout season with the Trojans in 2021, but he was suspended for the entire season following a domestic-violence arrest in July and was never reinstated. The district attorney in Los Angeles County declined to file charges in August, and USC's Title IX office dismissed the case in February.
The Vols haven't made any promises to McCoy, he said, about the role he might play once he arrives at Tennessee later this spring. But Heupel's staff has made it clear that he will have a chance to compete for immediate playing time — and perhaps even earn the starting job opposite fifth-year senior Cedric Tillmanwho was the Vols' leading receiver last season.
"The way I saw it is, there's an opportunity," said McCoy, who was ranked the No. 9 overall prospect in the 2019 class, according to the industry-generated 247Sports Composite, coming out of Mater Dei High School in Santa Ana, Calif.
"Obviously, there's no handouts. Things don't just get handed to you, given to you. But there's an opportunity to come in and earn a real position here — be a true contributor, help this team win games and those types of things."
GoVols247's Patrick Brown contributed to this report