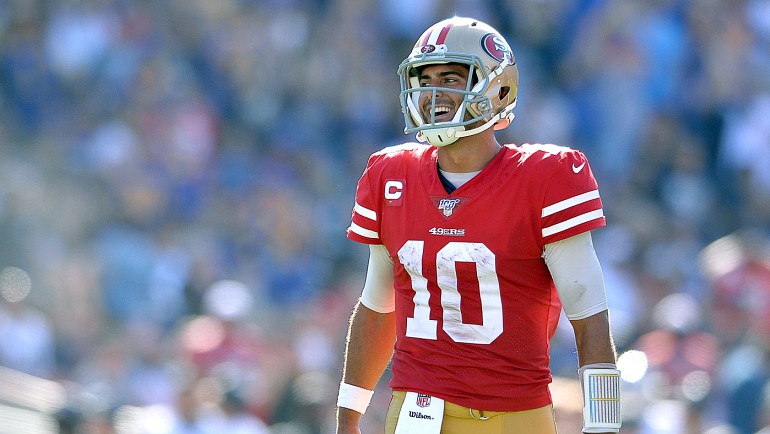 Things have not turned out well for the San Francisco 49ers regarding quarterback Jimmy Garoppolo's trade market. With the first wave of free agency in the books, most felt the veteran passer would be on another roster by now. That hasn't happened. Garoppolo and his over $25 million salary remain on the 49ers' payroll, and one NFL insider isn't so sure that will change anytime soon.
Most quarterback-needy teams have brought in new starters. The few who remain are in no hurry to overpay for a high-priced Garoppolo, who is just two weeks removed from shoulder surgery.
There was a rumor from Pro Football Talk that general manager John Lynch was telling teams the 49ers have an offer of two second-round picks on the table, likely trying to drum up more interest in Garoppolo. Of course, if that were an actual offer, San Francisco probably would have counted their blessings and accepted. At this point, that feels like a significant overpay for a quarterback who can't even throw until after much of the initial offseason work has come and gone.
That report from Pro Football Talk also surfaced before the whole Matt Ryan to the Indianapolis Colts shocker.
"I have not heard that," NFL Media insider Ian Rapoport said of the rumor on The Pat McAfee Show. "I mean, I think that's the price they would do it at. I haven't heard that, and I'm looking around like, 'Who could that be?' I mean, they're not going to trade him to Seattle, I don't think.
"Is anyone trading for Jimmy G right now, just off surgery? I'm still not so sure about that, so I imagine, if they had that offer, they would take it. Lynch isn't a big bluster guy. He doesn't 't lie. He's a pretty regular dude. I have a hard time imagining he would say that unless he really had it."
While Rapoport doubts the validity of the rumor, he feels that Garoppolo remaining with the 49ers in 2022 isn't unthinkable.
"I'll tell you this: The longer we go in this thing, and Jimmy G is still on the Niners, makes me think that they could keep him," Rapoport continued. "I mean, he led them into the playoffs last year. I know it wasn't perfect but would it be the craziest thing in the world to keep him and let Trey Lance learn for another year? I could think of worse outcomes for the 49ers."
That's probably not the sound bite 49ers fans were hoping for right now. They are anxious to see the page turned from the Garoppolo era to the Trey Lance era.
Rapoport added, "I just don't see a spot for him (Garoppolo)."
H/t to TheSFNiners for the find.
Nobody's perfect. Did you find a mistake in this article?
Report it.
Facebook Comments
More San Francisco 49ers News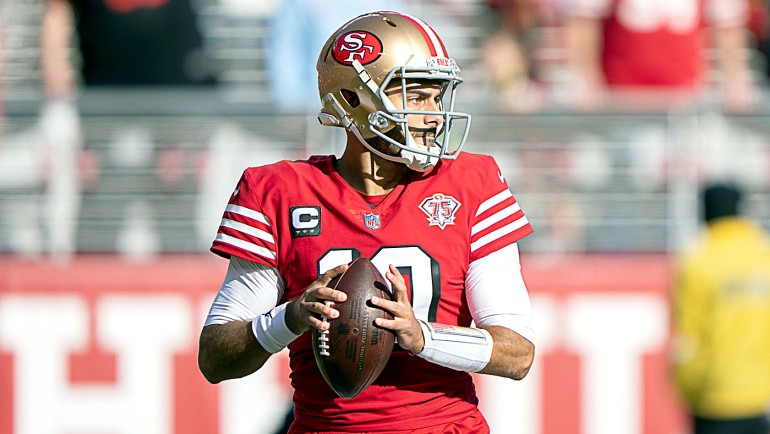 Rapoport: Nothing imminent from Colts in trade for 49ers QB Jimmy Garoppolo
NFL insider Ian Rapoport, speaking on NFL Network's NFL Total Access, provided an update on the status of San Francisco 49ers quarterback Jimmy Garoppolo. And the update is that there isn't an update. While many hope a trade is imminent, Rapoport says that isn't the case. The 49ers are reportedly in discussions with teams. However, most believe that San Francisco is seeking more than what potential trade partners are willing to offer. The Pittsburgh Steelers were the betting favorite to land Garoppolo until it was announced that they agreed to terms on a deal with Mitchell Trubisky. "The Pittsburgh Steelers were involved in Jimmy Garoppolo trade talks with the San Francisco 49ers," Rapoport said. "Obviously, that's not going to happen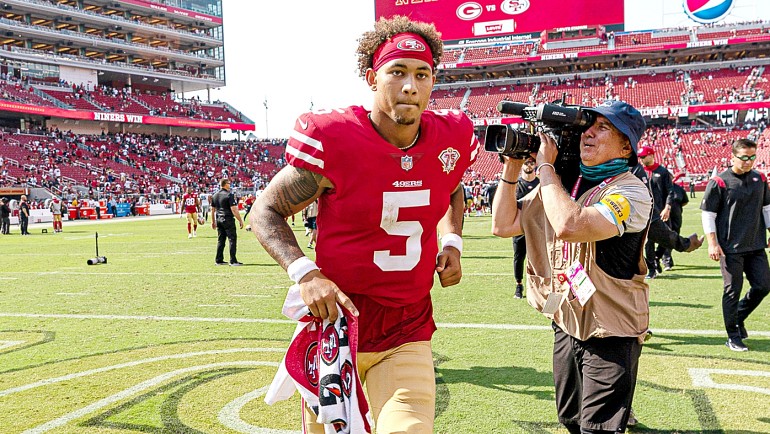 Florio: Not unthinkable that 49ers QB Trey Lance could 'take the league by storm' in 2022
The media is still trying to predict what San Francisco 49ers quarterback Trey Lance will be. No one—except the 49ers—saw much of him in 2021. Last year's No. 3 overall pick started just two games, replacing an injured Jimmy Garoppolo and adding a few scattered reps here and there. That totaled to 178 snaps this past season. That's hardly enough to make a definitive assessment of a player or accurately predict the young quarterback's NFL future. People are trying to do that, though. Some look at the limited sample size and say Lance doesn't look ready. They say he couldn't possibly take on a starting role after a couple of games featuring some up-and-down moments. Then there was the offseason chatter that Lance isn't ready and that his development was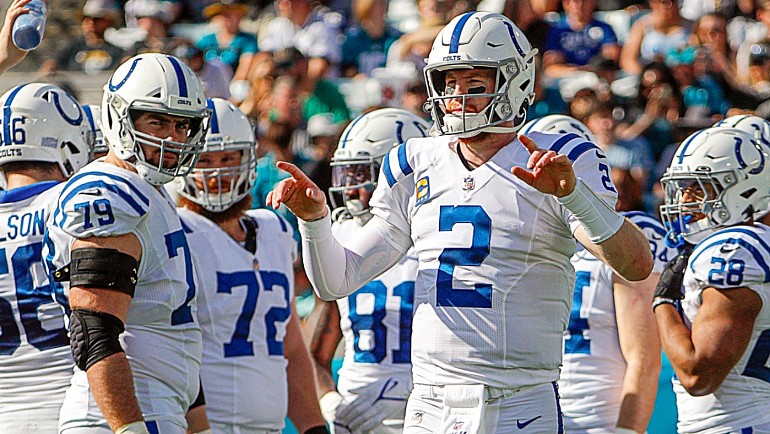 Commanders trade for Carson Wentz; Colts could be 'in the mix' for 49ers' Jimmy Garoppolo
As expected, the quarterback-needy Washington Commanders have traded for a new signal-caller. No, it's not San Francisco 49ers quarterback Jimmy Garoppolo. Many assumed Washington might be interested in the 30-year-old veteran passer, but instead, the team opted for Indianapolis Colts quarterback Carson Wentz, per ESPN's Adam Schefter. The NFL insider reports that the Commanders are believed to have surrendered two third-round picks for Wentz. Colts are trading QB Carson Wentz to Washington for a package of packs that is thought to include two third-round picks, sources tell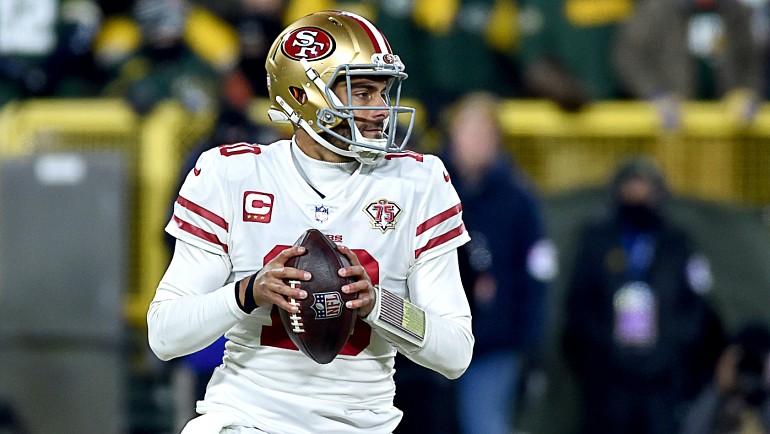 Mortensen: 49ers QB Jimmy Garoppolo could be an option for Browns
It sounds like quarterback Baker Mayfield's time with the Cleveland Browns is coming to an end. Whether or not the Browns land Houston Texans quarterback Deshaun Watson probably will not change that. According to ESPN's Chris Mortensen (via Will Brinson of CBS Sports), Cleveland is "breaking up" with Mayfield regardless of what happens with Watson. The Browns reportedly "want an adult" at quarterback. Ouch. Those are likely Mortensen's words, not the words of the Browns. Of course, it could convey what the organization thinks as it possibly prepares to part ways with Mayfield, the player selected No. 1 overall in 2018. Mortensen added another intriguing nugget, particularly to San Francisco 49ers fans, who await updates on the
.