An update on the Cardinals' two deadline-day trades completed Aug. 2 reveals the following: Jose Quintana and Jordan Montgomery, both left-handers, have made six starts. The Cardinals have won all six games, with Montgomery, who came from the New York Yankees, receiving credit for three wins in his three outings.
Including the Cardinals' 5-1 triumph over Colorado at Busch Stadium Wednesday night, the two newcomers have combined for 33 2/3 innings pitched and six earned runs allowed for an ERA of 1.60.
Meanwhile, of the players given up in those trades with the Yankees and Pittsburgh, none is active in the majors.
Nolan Gorman, who had two hits, knocked in three of the Cardinals' runs. Fellow rookie Brendan Donovan had three hits and drove in another run as the Cardinals won for the 11th time in 14 games this month, starting from the date the two trades were made, and beat Colorado for the 11th consecutive time at Busch Stadium since 2018.
Over their past seven games, Cardinals starting pitchers have allowed two runs or fewer in all of them.
A train starting pitcher, rookie Andre Pallante, faced seven men in relief. He retired all of them.
Carlson prevents extra-base hit
Montgomery fanned the first two Colorado hitters on fastballs in the first inning but needed a little help for the third out. Brendan Rodgers sent a drive headed for the right-center-field wall, but center fielder Dylan Carlson backtracked and made a jumping catch just before he got to the wall.
The Rockies, however, couldn't do anything about Nolan Arenado's extra-base bid or that of Gorman in the bottom of the inning. Batting with two out and Lars Nootbaar at third, Arenado bounced a run-scoring double over the left-center-field wall out of the reach of sliding left fielder Connor Joe.
Arenado picked up Paul Goldschmidt, who had grounded into a double play after Nootbaar had walked and Donovan had beaten out an infield hit. Gorman followed Arenado's hit by bouncing a run-scoring double over the right-center-field wall, and it was 2-0.
Cards survive snafu
Montgomery struck out eight in the first five innings but his shutout streak as a Cardinal ended at 13 1/3 innings when the Rockies pushed across a run in the third, on three singles.
The third of those hits was by Charlie Blackmon, who beat a shift by grounding a ball through what normally was the shortstop position. Third baseman Arenado, who was swung toward second base, pursued the ball but was unable to get it as a run scored. Shortstop Paul DeJong was playing behind the bag.
When base runner Brian Serven turned second, he noticed that no one was covering third and left fielder Corey Dickerson could only return the ball to second as Serven steamed into third.
This gave the Rockies runners at first and third and one out. But Montgomery threw a double-play ball. Second baseman Gorman fumbled it momentarily but recovered to throw to DeJong, who strong-armed a throw to first to beat Rodgers and the Cardinals left the inning still ahead.
Montgomery's scoreless streak was the longest by a new Cardinals starter since Kyle Lohse had 15 innings in April 2008.
Donovan sparks rally
Donovan singled to left in the fifth for his second hit and alertly went to third on Goldschmidt's single off the glove of diving third baseman Ryan McMahon.
Arenado lined to McMahon for the first out. But Donovan having made third enabled him to score on Gorman's grounder to first baseman CJ Cron, who elected to throw to second and not home as he tried for a double play but Gorman beat the relay throw as Donovan came home. The Cardinals led 3-1.
Montgomery throws DP ball
Blackmon was nicked by a pitch and Rodgers singled off the glove of Gorman, giving the Rockies two on and nobody out in the sixth. A mound visit by pitching coach Mike Maddux appeared to pay dividends for Montgomery, who induced Cron to rap into a double play started by Arenado.
But with Jose Iglisias, who had two hits, coming up, manager Oliver Marmol called for Pallante, who got an inning-ending roller.
Montgomery left having walked no one and having tied his season-high for strikeouts at eight. Over 16⅔ innings in two starts, he has given up just one run and 12 hits, striking out 17.
The Cardinals' ground-ball double play turned tied them with Colorado for the major-league lead, at 111.
Gorman delivers again
A two-out single to right by Gorman added to the Cardinals' lead in the seventh, after Nootbaar was hit by a pitch to start the inning. After the Cardinals had gone ahead 4-1, Gorman was replaced in the eighth by Tommy Edman at second base and Dickerson came out for Tyler O'Neill.
Donovan doubled for his third hit, scoring Carlson with two out in the eighth, for the Cardinals' final run. Seeing limited playing time lately, Donovan had had only three previous hits since Aug. 4.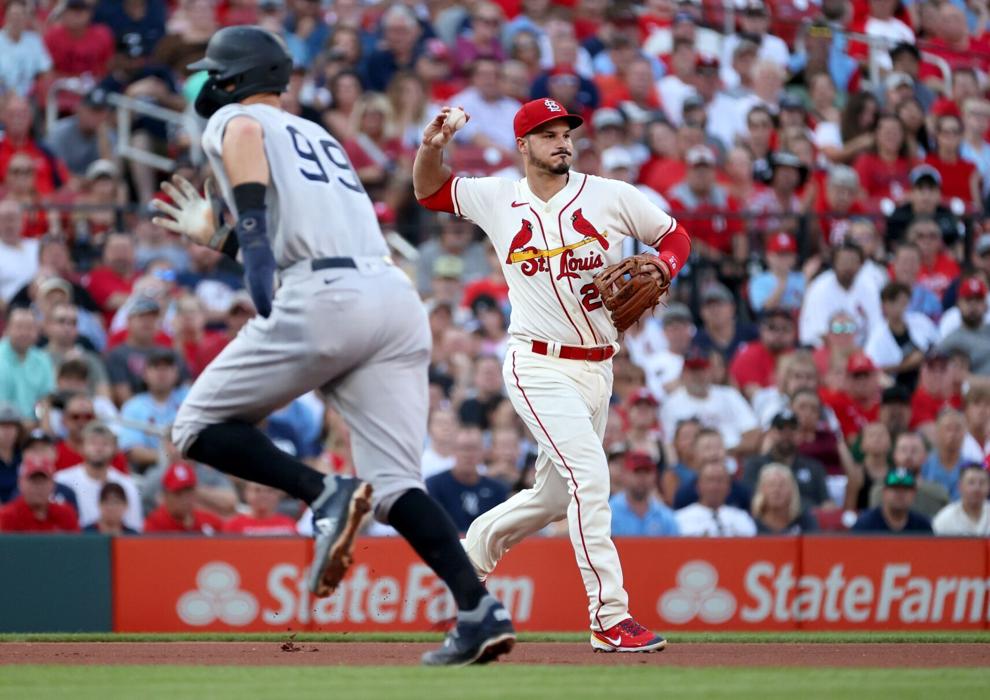 .