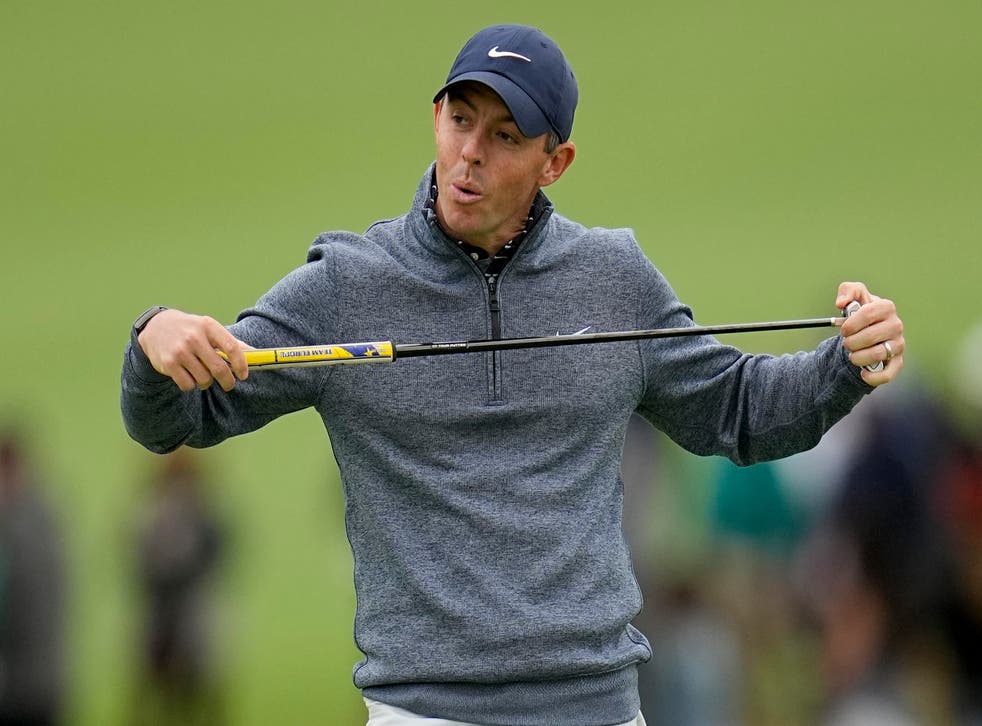 Mito Pereira will take a three-shot lead into the final day of the PGA Championship at Southern Hills after overcoming a shaky turn to surge out in front on Saturday. Pereira birdied the last to card a 69 and remain ahead of overnight leader Will Zalatoris and Matthew Fitzpatrick, who put himself into contention after shooting an excellent 67.
Rory McIlroy's bid to end his major drought suffered a significant early blow, however. After a run of five straight pars, McIlroy pulled his tee shot to the par-three sixth into the water and ran up a double-bogey five to drop back to two under par. It would be followed by a triple-bogey six and although a run of birdies helped, McIlroy then dropped a further shot at the 18th to finish the day at level par overall.
Earlier in the day, Tiger Woods recorded his worst ever score in the PGA Championship as a successful battle to make the cut took a heavy toll at Southern Hills. Woods shot 79, his previous worst score in the US PGA being a 77 in the first round in 2011. "I just didn't play well," Woods said. "I didn't hit the ball very well and got off to not the start I needed to get off to. I thought I hit a good tee shot down two and ended up in the water, and just never really got any kind of momentum on my side."
It was confirmed after the conclusion of the third day that Woods had withdrawn from the tournament and the 46-year-old will not play in the fourth round.
Follow all the action on what promises to be an intriguing final day, below:
1653244666
Pereira and Fitzpatrick get underway
There are no signs of nerves from the leader Mito Pereira (-9) as he bombs his drive on the first smack bang down the middle.
The same can't be said for Matt Fitzpatrick (-6) who hooks his tee shot into the crowd over to the left of the fairway.
Michael Jones22 May 2022 19:37
1653244552
Young struggles on the first
Cameron Young did find the sand off the tee on the first hole and had to lay up in the fairway with his second. He could still save by but would have liked to be a lot closer to the hole after dining a wedge into the green.
His putt isn't the easiest and he could be looking at a first hole bogey.
Will Zalatoris is on the green in two and has the chance for birdie.
Michael Jones22 May 2022 19:35
1653244372
McIlroy with another birdie chance
On the par-3 eighth Rory McIlroy finds the right side of the green off the tee and leaves himself with a long putt for birdie. This will be some shot if it drops.
Bubba Watson (-2) gives himself a chance to pick up a shot on the third with a great approach to the third green. He leaves himself around 10-12 feet for a three.
Michael Jones22 May 2022 19:32
1653244161
Zalatoris and Young tee off
The penultimate group of the day kick off their rounds on the first tee. Will Zalatoris (-6) is safely down the fairway but Cameron Young is a little wide.
He's into the rough stuff over on the left but seems to have carried his drive over the bunker that's positioned on that part of the hole.
Michael Jones22 May 2022 19:29
1653243947
McIlroy inches away from a birdie
Ooooooooh. So close for McIlroy!
After he smoked his tee shot down the 7th fairway, a decent iron left him with maybe a 30-footer for birdie. He hit it well and it's millimeters from dropping.
A par at the 7th at Southern Hills is never a bad score, so he'll take that but he stays at (-3) and can't get the shot he dropped at the 6th back.
Michael Jones22 May 2022 19:25
1653243775
Bad start for Stewart Cink
Stewart Cink off to a bad start to his Sunday as he bogeys the 1st, slipping back to -1. Better from his playing partner Justin Thomas, who safely pars it to stay at -2 alongside Bubba Watson, Tommy Fleetwood and Lucas Herbert.
Luke Baker22 May 2022 19:22
1653243455
Tommy Fleetwood goes back to back
Tommy Fleetwood getting himself involved now. The Englishman birdied 4th and followed that up with another at the 5th – holing a five-footer. He joins the group at -2.
Meanwhile, Rory McIlroy smokes his tee shot down the 7th fairway, a nice bounce back from his bogey at 6.
Luke Baker22 May 2022 19:17
1653243083
Justin Thomas and Stewart Cink underway
Players who need a good round to legitimately put themselves in contention but will still fancy the job are starting to get underway. Justin Thomas and Stewart Cink – both at -2, seven strokes back – hit their tee shots at the 1st. Fairways found for both Americans.
Bubba Watson leaves the 1st so he stays at -2.
Luke Baker22 May 2022 19:11
1653242938
Bogey for McIlroy
His saves around the greens are normally a strength of Rory McIlroy's game but this time it lets him down. We mentioned his errant tee shot at the par-3 6th and his chip is sub-par, leaving him 20 feet for par.
He hits a good putt but it slides narrowly by and it's back to -3 for Rory.
Luke Baker22 May 2022 19:08
1653242863
Mito Pereira tries to join exclusive list
The list of South American men's major winners is a short one – consisting of just Roberto De Vincenzo (1967 Open) and Angel Cabrera (2007 US Open, 2009 Masters).
Those two Argentines could be joined by the first Chilean if Mito Pereira can convert his three-stroke lead into victory.
Pereira won three times on the Korn Ferry Tour (the second-tier American tour) last year to earn his PGA Tour card but this is obviously a different level.
Luke Baker22 May 2022 19:07