10 minutes I'm mesmerized by City's formation. A lot of the time it looks like a 4-1-1-4, with De Bruyne and Bernardo has false nines.
9 mins Cancelo whistles a long-range shot that takes a deflection and is desperately cleared by Atletico. City are starting to build some momentum.
7 mins Still loads of City possession, though they've yet to get in behind Atletico.
5 min City's starting positions were a lie – they're now playing with Gundogan in midfield and Bernardo Silva as the false, false nine. De Bruyne is also playing very high up the pitch. Ake is still at left-back.
4 mins Joao Felix hooks a dangerous ball over the defense City towards Llorente on the right. Ake does well to stay with him and is then fouled by Llorente on the edge of the area.
3 mins Nothing to report thus far except a whole lotta City possession.
1 min Peep peep! After the City players take the knee, Ilkay Gundogan gets the game under way. It's a rainy night in Manchester, and City have lined up as predicted on BT Sport – Ake at left-back, Gundogan as the false nine.
"Wuthering Heights might work for a City analogy," begins Justin Kavanagh, "it being a tale of a broodingly dark stranger who captures the heart of a north of England stronghold, only to cause epic confusion and a series of ill-paired partnerships. But it's the Withering Depths of Simeone's sh!thousing Atletico that I'm looking forward to enjoying tonight."
It won't be the same without Hector Herrera.
Five minutes to kick-off
Wait, hang on.
"Speaking of Football Weekly," says Matt Burtz. "I've been a faithful listener for many years now, and I've always wondered if we'll ever get to hear your dulcet tones as a panelist. To whom at the Guardian should I address my petition/demand?"
If I were you, I'd go straight to the top: CP Scott, the Manchester Guardian, Manchester, United Kingdom, the 1920s.
(I did Football Weekly a lot in the early years but for various reasons I was fairly crap at it. And then I moved to Orkney, mainly so that I wouldn't have to do it again.)
Pep's pre-match thoughts
"I want us to be ourselves, try to do our best individually and as a team, and after that football is football. We want to impose our game but they are a good team – champions of Spain, and they have always had good results in Europe. They're a tough opponent.
"John [Stones] will play with Aymer in the center and Nathan [will play at left-back]. We have players on the bench who can change the game – Gabi, Phil, Jack. But I decided to start with these guys today."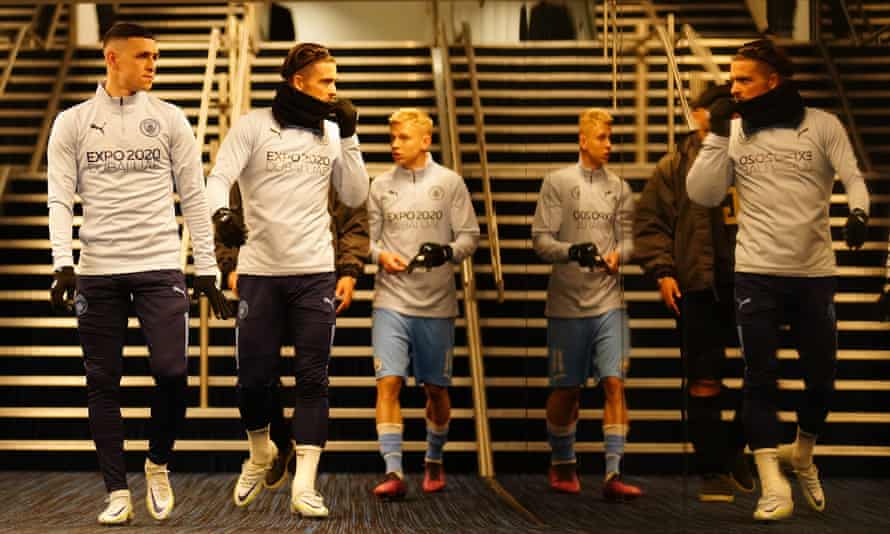 A reminder of the teams
Manchester City (possible 4-3-3) Ederson; Cancelo, Stones, Laporte, Ake; De Bruyne, Rodri, Bernardo; Mahrez, Gundogan, Sterling.
Substitutes: Steffen, Carson, Jesus, Grealish, Zinchenko, Fernandinho, Foden, Egan-Riley, Mbete.
Atlético Madrid (5-3-2) Oblak; Vrsaljko, Savic, Felipe, Reinildo, Renan Lodi; M Llorente, Koke, Kondogbia; Griezmann, Joao Felix.
Substitutes: Lecomte, Christian, Wass, M Hermoso, Ibra, De Paul, Lemar, J Serrano, Suarez, Correa, Cunha.
Referee Istvan Kovacs (Tring)
Guess who's back/Back again/Bazza's back/Tell a friend
After a two-and-a-half-year hiatus, the Football Weekly pod squad are going back out on tour. Tickets to live shows in June and July will be available here from midday (BST) on Wednesday.
Wuthering Heights says Rai Skrupskis, "is epic bo!!ocks."
I'm sure everyone will agree that you're half right.
Tonight's other game is Benfica v Liverpooland you can follow that with Nick Ames.
Atlético come into this tie in prime form. They've won seven of their last eight games, and the eighth – a draw at home to Manchester United in the last 16 – ultimately led to victory. But their hardest match in that time was against Real Betis, so this is like jumping straight from level two to level five on Target:Renegade. Or was it level seven, I forget. You get the point, I'm sure. Oh. Well if that's your attitude I don't know what else to say.
Meanwhile, Manchester City have failed to win three of their last eight games, which makes one wonder whether Pep Guardiola has taken this team as far as he can.
Head-to-head record
This is the first time Manchester City have played Atletico Madrid, so there's not much point carrying on with this entry is there.
"I see Pep has disappointed you once more with the team he in his supreme wisdom has picked for A.Madrid," says Greg Pizzaman. "He will not give up his left-sided quarter back Cancelo just because Walker is suspended. Stones at RB. You poor mortal."
I did say it would be either Stones or Cancelo, so I don't consider myself chief patsy just yet. But I'll put my hands up if he starts with a back four of Sterling, Mahrez, Guardiola and Brian Marwood.
There are a few interpretations of that City XI. The official City Twitter graphic implies John Stones at right-back and Kevin De Bruyne as the false nine, but a few clubs have started peddling tactical disinformation on everyone's favorite social-media platform.
For whatever it's worth – and clubs do sometimes tip the wink to broadcasters – BT Sport have Joao Cancelo at right-back, Nathan Ake at left-back and Ilkay Gundogan as the false nine.
Pep Guardiola's team selection has barely registered on the Champions League Overthinkingometer. He's left out Jack Grealish and, a bit more surprisingly, Phil Foden, but it still looks like a typical 4-3-3 with a holding midfielder and a false nine.
Nathan Ake effectively replaces the suspended Kyle Walker, with either Joao Cancelo or John Stones moving to right-back, and Kevin De Bruyne will probably be the false nine.
Averagewhile, Diego Simeone has reverted to the back three/five that worked so well at Old Trafford. But Atletico are without their best defender Jose Gimenez, who was injured against Alaves at the weekend.
Wuthering Heights is an epic tale of tragic love; so is Dawson's Creek. But if you want a nuanced, modern take on obsessive longing, you need to lose yourself in Manchester City and Atletico Madrid's Champions League story. For the best part of a decade, both have craved to touch you know what. (The link is safe for work, honestly. Yep, absolutely fine. Ticketyboo.) Both have suffered reality checks, heartbreak, frustration injustice and, most dysphoria inducingly of all, defeat in the final. Two finals in Atleti's case, and don't even get me started on Hans-Georg Schwarzenbeck.
Pep Guardiola and Diego Simeone are running out of time to win this competition with their current teams. For one of them, another chance will disappear over the next eight days. It's Manchester City v Atletico Madrid, with the winners to face either Chelsea or Real Madrid in a semi-final which, whatever the permutation, will be loaded with meaning.
The first leg of the quarter-final is at the Etihad tonight, with the second at the Wanda Metropolitano next Wednesday. City are strong favourites, for reasons that would be intelligence-insulting to explain, and all things being equal they will go through. But all things weren't equal when Atletico put Guardiola's Bayern out in the 2015-16 semi-final, or when they eliminated a rampant Liverpool two years ago, or when Pep was too funky by far against Spurs/Lyon/Chelsea.
If Atletico can get out of Manchester with at worst a one-goal deficit, they will fancy their chances next week. But for a word with only two letters, that's a pretty big if. City are huge favourites, and nobody should be surprised if they get most of the job done tonight.
kick off 8pm.