FBI Sixteen Phone of Trump-Ally Rep. Perry
After the raid at Mar-a-Lago, the FBI has also seized the cellphone of Trump-ally Representative Scott Perry of Pennsylvania.
"This morning, while traveling with my family, three FBI agents visited me and seized my cell phone," Perry said in a statement.
He said the agents "made no attempt to contact my lawyer, who would have made arrangements for them to have my phone if that was their wish."
His cellphone contains information about his legislative and political activities and private conversations with his wife, family, constituents and friends, Perry said, adding that "none of this is the government's business."
"I'm outraged – though not surprised – that the FBI under the direction of Merrick Garland's DOJ, would seize the phone of a sitting Member of Congress," he said.
This is likely in connection to the Justice Department's investigation into the the attempt to overturn the 2020 presidential election results at the US Capitol on Jan. 6, 2021.
Perry pushed Trump's false claims of widespread election fraud in 2020 and was later the mentioned in several hearings from the House Select Committee investigating Jan. 6.
Committee Chairman Bennie Thompson sent Perry a letter requesting information on his effort to help appoint DOJ official Jeffrey Clark, who wanted to champion Trump's election fraud claims, as acting attorney general.
The Committee revealed that Trump wanted to oust then-acting Attorney General Jeffrey Rosen and replace him with Clark, who would say that all states won by Joe Biden to send in alternate, pro-Trump electors for the election certification.
Several DOJ officials told Trump that they would resign if he removed Rosen and replaced him with Clark.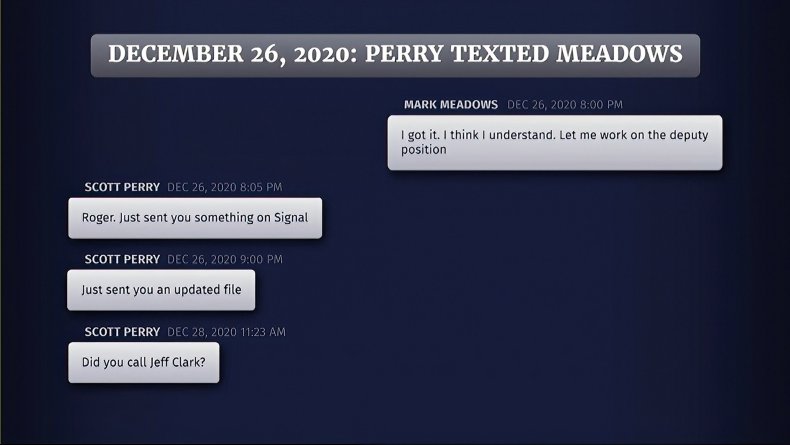 Perry refused to provide information or to voluntarily testify.
Cassidy Hutchinson, a former aide to Trump's chief of staff Mark Meadows, told the Committee in June that Perry was among the five Republican lawmakers who sought pardons from Trump after Jan. 6. Perry denied this claim.
"At no time did I speak with Miss Hutchinson, a White House scheduler, nor any White House staff about a pardon for myself or any other Member of Congress — this never happened," Perry said.