Even before Chandavian Bradley visited Tennessee for the first time in late May, the Vols had made enough of an impression to establish themselves as one of the teams to beat for him. Once he arrived on campus, it didn't take long for him to decide he wanted to play there.
The five-star Class of 2023 edge rusher from Platte County High School in Platte City, Mo., announced Sunday afternoon that he has committed to Tennessee, choosing the Vols over South Carolina and Texas A&M. The Gamecocks and Aggies both hosted him on official visits last month, but he admitted his mind has been set on Tennessee since his first trip to Knoxville the weekend of May 28.
"I was there for a good, like, three days, I'm pretty sure," Bradley told GoVols247 before publicly revealing his decision, referring to his unofficial visit with the Vols that allowed him to attend their "Rocky Topalooza" event.
"I think by, like, midway through the second day, I was like, 'This is the spot.'"
The 6-foot-4, 211-pound Bradley gave the Vols their 17th commitment for the 2023 class and their fifth in 10 days. He joined four-star Caleb Herring of Murfreesboro, Tenn., a top-50 prospect in 247Sports' rankings, as the second projected edge rusher in Tennessee's 2023 class.
Bradley said the "family atmosphere" at Tennessee played a major role in his decision, along with the relationships he has built with Vols coach Josh Heupel's staff — led by defensive analyst Levorn Harbinoutside linebackers coach mike ekeler and Heupel himself—and some of Tennessee's current commitments.
"I mean, even from just that one visit that we went to, you could kind of tell the family atmosphere and just the atmosphere in general," said Bradley, who's ranked the No. 36 overall prospect and No. 5 edge rusher in the 2023 class and the No. 1 rising senior from the state of Missouri, according to the industry-generated 247Sports Composite.
"Even with it being summer and people being gone, you can kind of tell from the energy that they really care about their people."
Tennessee extended a scholarship offer to Bradley in February. He said the Vols involved were with him for months before they officially joined the race for him, and by the time he traveled to Knoxville in May, they were already one of the top teams he was considering.
He said that was because of the connections he built with Harbin, Heupel, Tennessee safety commitment Jack Luttrell of Colquitt County High School of Moultrie, Ga., and Herring.
"It was definitely the fact that I kept in contact with Coach 'Chop' and Coach Heupel," Bradley said, referring to Harbin and the Vols' second-year head coach. "Like, pretty much daily I talk to Coach 'Chop.'
"And even at that, I talk to a lot of the commits and a lot of other recruits that are being recruited there, so getting to know the relationship between the guys that are already going to school there and then getting the relationship between the coaching staff and the people that already work there and everything. …
"I definitely heard from both Caleb Herring and Jack Luttrell the most (among Tennessee's commitments). I keep in contact with Jack every day. I talk to him almost every day, and I've been talking to him every day since, I think, December. Caleb, I've been talking to since the day he committed, and he's been trying to pull me in since then.
"I mean, pretty much all the guys have been very supportive of everything I've been doing, and they've really been like, 'Well, don't have too much fun (visiting other schools), but have fun while you 're out.'"
Bradley said he first informed Harbin of his decision weeks ahead of his announcement Sunday afternoon. Bradley said Harbin was thrilled to find out that he was headed to Tennessee.
"He was ecstatic to hear it," Bradley said of Harbin. "He was like, 'OK, this is going to be good.'"
The Vols have told Bradley they're excited about what his addition could mean for their pass rush, and he could have an opportunity to compete for early playing time.
"They definitely want to play me at more of the weakside — the Leo position that they have," he said. "They'll put me in there, have me do both dropping back in coverage and rushing off the edge — pretty much the same stuff I do in high school right now.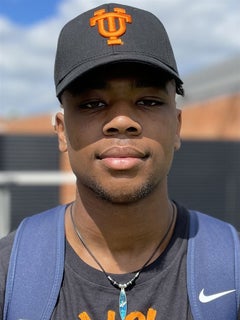 "I mean, with the way that their roster is set right now, it's looking like I definitely do have a chance of being able to come in and make a difference instantly."
Luttrell was the first Tennessee commitment to connect with Bradley, but Herring has stayed in frequent contact with Bradley since announcing his commitment to the Vols in April.
"We definitely have talked about what we can do together, especially because our game styles align very well with each other — both speed guys," Bradley said of Herring. "I think even he thinks, most likely, he'll be more of the rusher — the full-time rusher — and I'll be more of, like, if we need the pass set, I can go back in coverage or whatever ."
Bradley said he's scheduled to take his official visit to Tennessee the weekend of Oct. 15 for the Vols' home game against Alabama. While he still has three official visits remaining, he said "the door will be closed" moving forward for other teams to steal him away from Tennessee.
A two-sport standout who's also planning to play basketball for the Vols, he said he's on track to graduate in May before enrolling at Tennessee next year. He said playing basketball in college "wasn't that important, honestly," but the Vols' coaches have told him they're willing to let him try playing both sports.
"If the opportunity came to me, then I was going to take it wherever I went," Bradley said. "But it happens that they are letting me, so I will go ahead and do it."